Breathing Profile Generator F-sig 6300
– Patient Realistic Inhaler Testing
The F-SIG 6300 by AB FIA is a breathing profile generator that is capable of replaying complex breathing patterns. Thanks to a novel multi-cylinder design, F-SIG 6300 enables generation of a number of clinically relevant patterns. F-SIG 6300 is not intended for clinical use on humans. The areas of operation are for instance: testing of pharmaceutical inhalers and nebulizers with human breathing patterns, characterization of cigarettes (smokers profiles), rodent profiles and general respiratory research that includes very controlled breathing patterns.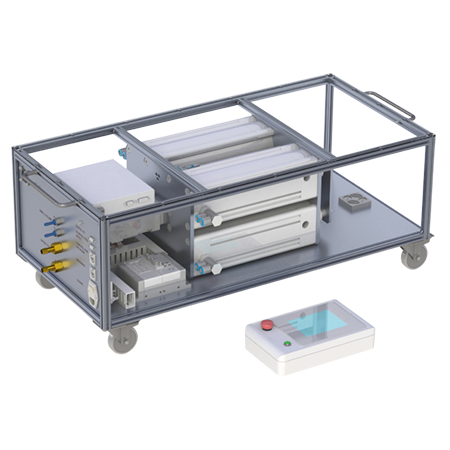 The generator is easily movable and comes with a handheld touch-panel.
Equipment and Service
F-SIG 6300 consists of a breathing profile generator built into a box with transparent plastic covers and placed on wheels. The control system of the multi-cylinder package is configured and operated by the user through the touch panel. AB FIA can perform IQ, OQ and training. Also PQ and equivalence testing with anatomical throats if the customer has relevant target profiles. Extensive training can be offered at the customer's location.
Key Features:
Capacity large volume 0 – 6.3 liters
Capacity small volume 0 – 0.1 liters
Voltage 95 – 255VAC, 50 – 60Hz, 6.5A
Dimensions HxWxD 80x1036x480 mm
Dimensions Touch Panel 80x280x170 mm
The user interfaces are simple and intuitive.
User-Friendly and Versatile
The F-SIG 6300 is operator-friendly and comes with a touch panel. Profiles, possibly recorded by FIA's Metivent software, are handled and modified in a spreadsheet (e.g. Excel) and the profile library is downloaded to the F-SIG 6300. The operator can thereafter, from the library of profiles, select desired profile on the panel and start the replay of the profile.
A typical application is the NGI with an anatomical throat and mixing inlet.
Breathing Patterns
Forceful inhalation/exhalation profiles through e.g. dry powder inhalers.
Replaying breathing patterns used in the  characterization of Nebulizers as stated in e.g. USP <1601> and Ph. Eur. 2.9.44.
Breathing patterns that comprise small air flows such as smokers' profiles or rodent nose breathing.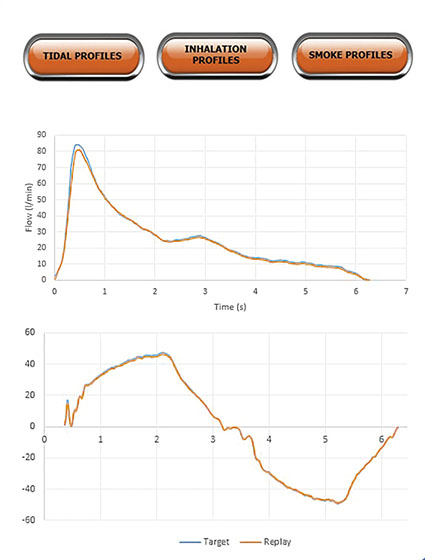 The equipment comes with a number of recorded profiles which are run as part of the installation qualification.