Organic Synthesis
Microscale; Manual parallel screening
Here are some examples of equipment for manual parallel screening. It increases the productivity for exploring experiments in the fields of synthesis, extraction and solubility!
Heating blocks for sampling tubes and vials may be put on a heater or cooler. If small magnetic stirrer bars are put in the vials, it is possible to achieve individual stirring in the vials simply by putting the blocks on a standard magnetic stirrer with or without heating.
Some of our heating blocks are to be placed on a shaker. We can manufacture adapters to shakers and for example 96-hole blocks as accessories to the shaker.
All blocks in this series are manufactured in anodized aluminium, giving a hard corrosion resistant surface with optimal heat conductivity. An extra hole is there for a temperature sensor (diameter 3.5 mm). One edge is marked with a chamfer to facilitate order in the vial numbers.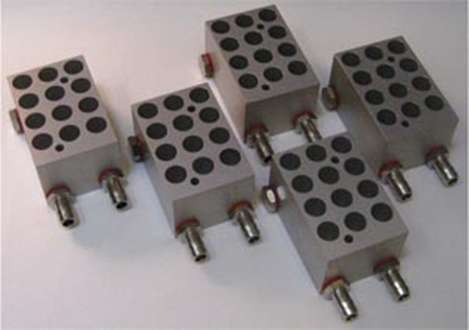 Block for 6 sample tubes 25mm,
HBD 33x80x100mm
Article number: C2796
Block for 16 sample tubes 25mm.
HBD 33x118x118mm
Article number: C2830
Block with place for 12 sample tubes with max diameter 15 mm. Measures: HBD 50x60x90 mm with 2 connectors for 12 mmm hose (i.d.) for external thermostatting.
Artikelnummer: C2775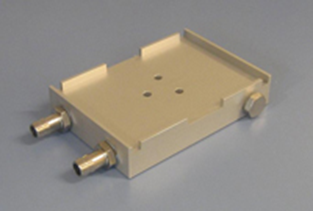 Thermostatic adapter for 96-hole block. Fits shaker "IKA MS3 basic"
Article number: C2835
96-hole block.
Article number: C2833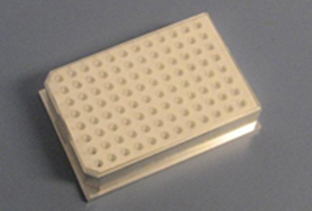 Small scale
FIA delivers complete reactor systems, glass reactors, scrubbers etc  from Diehm, Rettberg, Bohlender and Humiglas including all necessary accessories like:
Thermostats
Stirring motors
Flexible couplings
Stirrers
Stirring locks
Stirrer bearings
Seals
Coolers
Dropping funnels
Deviders
Connectors
Adapters
Valves
Tension braces
Stand parts
Frames
Hoses
Tubings

Reactor setup with crystallising sensors. Created by and in cooperation with the customer.
Photo: by the courtesy of the satisfied customer