Inhaler and Nasal Test Automation
Since the early 90's FIA has delivered several bespoke analytical instruments and delivered modules to over 100 fully automated GMP systems for the purpose of testing delivered dose uniformity, aerodynamic particle size determination and foreign particle analysis. FIA has designed and produced several of those automated systems. This gives overall FIA a unique position in the area of inhaler and nasal testing. Our systems are built according to customer specifications. Tell us your needs and we can make a proposal based on pharmacopoeial methods and best practices within the industry.
See also Delivered Dose Uniformity Testing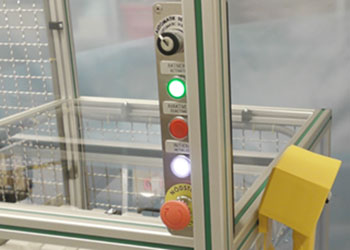 All our systems use the latest automation technologies and are CE-marked.
We sell a wide range of specialised equipment and adapters for device performance testing.
Two standard fast screening impactors from MSP size-fractionate the aerosol.
Inhaler Test Automation
FIA Enables Abbreviated Impactor Measurements
Successful inhalation products require rigorous quality control (QC) testing throughout the product life-cycle, including measurement of the total dose and fine particle dose (FPD) of the emitted aerosol.  This long-term need for repeated measurements lends itself, in concept, to automatic equipment. However, automation of the FPD has proven extremely challenging, successfully accomplished by only very few pharma companies and at substantial expense.
FIA is now changing that equation together with its partners.
"I was impressed when I first learned of FIA's proven approach to automated dosing equipment. The light bulb went off immediately – this is perfect for abbreviated impactor measurements (AIM)," says Dr. Daryl Roberts, co-inventor of the Next Generation Impactor and now president of his own consultancy, Applied Particle Principles.
FIA's Automated Measurement System (AMS) applied to the AIM concept has been worked out together with Dr. Mårten Svensson at Emmace Consulting (www.emmace.se) and is based on established concepts (Pharm. Forum, 1993; Appelqvist et al., 1998). The dose aerosol is separated into two size-fractionating components by two standard Fast Screening Impactors from MSP (Figure above) that are mounted above a fritted glass collector from which drug product can automatically be recovered and quantified.  These components are part of a complete automated dosing and analysis station manufactured by FIA.  With proper choice of the size-fractionating components, the recovered drug product can be either the FPD or the large particle mass (LPM) or the small particle mass (SPM).  FPD is typically the key quality measure for European regulatory authorities.  LPM and SPM are the key measures for the so-called "efficient data analysis" that the US FDA is carefully considering as an adequate QC test for a registered drug product.
"We think customers will be increasingly successful getting regulatory approval of the abbreviated measures of particle size, when it comes to routine quality control testing," says Kjell Fransson, managing director of FIA.  "Our equipment will play a key role in the long-term success of these products."  FIA will be working with Dr. Roberts to implement the best AIM tools for individual customer drug products and to help customers explain to regulatory agencies the rigorous relationship of AIM to the QC necessary for product safety and efficacy.  Contact Mr. Fransson at kjell.fransson@fia.se or Dr. Roberts at droberts@particleprinciples.com with questions or to discuss specific applications.
Download the pdf FIA – Where the AIM Is Quality Control_2017
References
"Determination of Emitted Dose," Pharm. Forum,

19

(3), 5462 (1993).
Appelqvist, R., P. Andersson, H. Lundback, T. Loof, B. Olsson, "Automated Dose Measurement Stations – Valuable Players in the Development of Turbuhaler® Inhalers," presented at 16th International Symposium on Laboratory Automation and Robotics, Boston, MA, October 18-21, 1998.